SMS Code Words allow your People and Guests to send a Unique Word to your dedicated Faith Teams phone number and get an auto-responser message
Examples
Text Welcome to (XXX) XXX-XXXX and receive a digital Guest Form
Text Youth to (XXX) XXX-XXXX and receive an event Signup form for a youth trip
Text Info to receive an  auto-response back with event times
Forms
Create an SMS Code Word to allows guests and others to send a text message and receive an auto-responser to fill out a form.  The Code Word is a unique word or short phrase, and the auto-responder will reply back with the link to your form, and an optional message.
What is an auto-responder?
An auto-responder is just an automatic response to the Code Word that is send to your Faith Teams phone number.  We're always ready for someone to engage your church!
On the Form Settings, click "Actions" and select "Create SMS Code Word"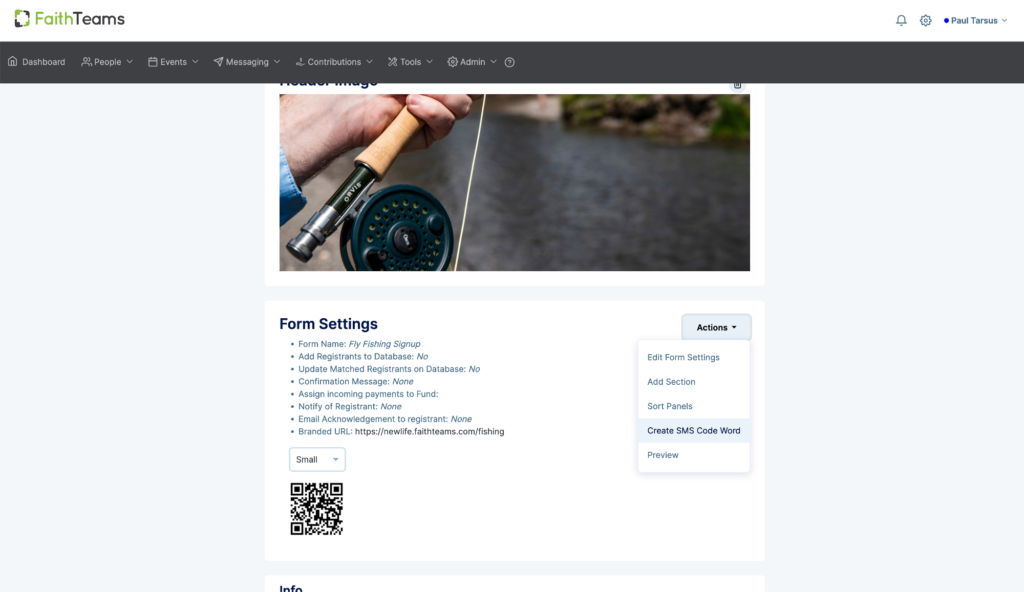 What is your SMS Code Word?
In the Popup, type a "Code Word" into this field.  For this fishing signup form, we used the Code Word fishing.  Capitalization does not matter, so it will work whether people reply FISHING, Fishing, fishing or any combination of uppercase & lowercase letters.
Include an optional message with the autoresponder link
You can include an optional short message to precede the link that will be sent along with the link to the form.  A short greeting & instruction is a great idea.